Soo, mad reviews and whatnot this post heyy.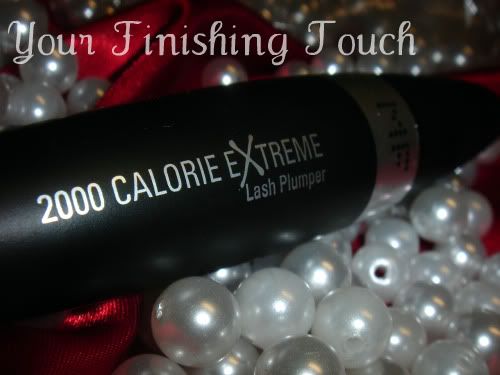 I'm gonna start off with MAX Factor 2000 Calorie Extreme Lash Plumper. I've wanted to try this mascara forEVER and I could just never find it anywhere, which is weird because when I was at WalMart last night I found it and I was estatic. It claims to "fatten your lashes for a thick, dramatic look." The wand is very similar to that Covergirl (I think) mascara in the orange tube...it's pretty big. And I hated the Covergirl wand. It was so huge, but I can totally deal with this one.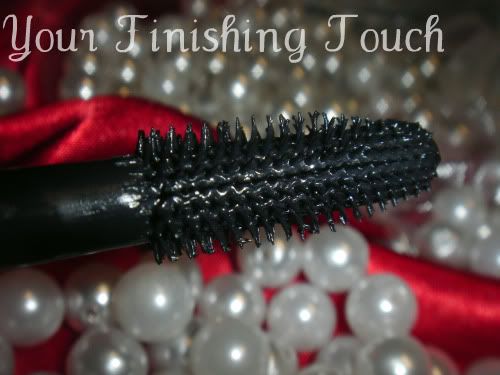 I don't have a picture of it on my lashes because I was lazy this morning, but this is definitely a Diorshow Iconic competitor for me. Diorshow is my absolute FAVE macara ever, and this holds up pretty well next to it. It applies really evenly on the lashes, and doesn't take forever to try so you can blink and whatnot normally within a few seconds. I rrrrrrrrreally like this stuff. I'll put up a pic of it on my lashes at some point. But I would definitely recommend this mascara to anyone who wants thicker lashes, it does a good job.
-----------------------------------------------------
NEXTTT. Let's talk pigments. MAC Pigments are ridiculously amazing. As told by MAC's website,
"
Pigment is a highly concentrated loose colour powder that contains ingredients to help it adhere to the skin. Create a subtle wash of colour or an intense effect. Does not streak or cake. Easy to blend and long-lasting."
Pigments can be used for SO many things. Eyeshadow, face highlighter, lip color, the list can go on and on. They also last FOREVER. I don't know anyone who's gone through a whole jar.
This is Circa Plum, she's brand new from the Rose Romance collection by MAC, obv. I usually don't agree with MAC's color descriptions too often, but this time they're pretty accurate. "Frosty dirty mid-tone lavender." It's also got a little bit of pink shimmer when you apply it, or at least for me it did. It's very pretty.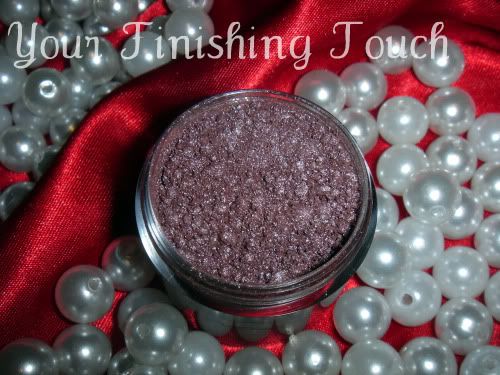 I don't know why it looks so chunky there.
I gotta work on my swatch skillZ. I never do them cause I feel like they look so lame. Oh well. It looks kinda pinkier when I used it last time.
-----------------------------------------------------
Mkay. Next is Tan pigment. "Muted pinky-brown bronze." I guess that's alright. It's very coppery and WICKED sparkly. I feel like this is the craziest sparkley pigment ever. I usually don't wear this alone, I put it over a green or purple to add a little somethin' somethin'.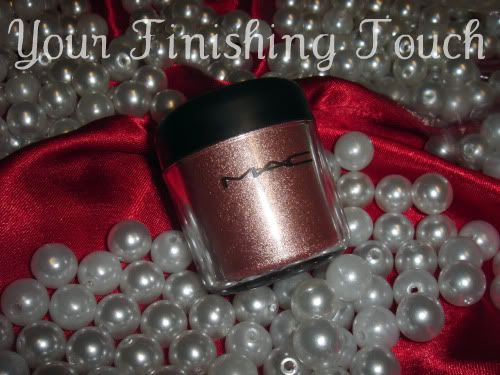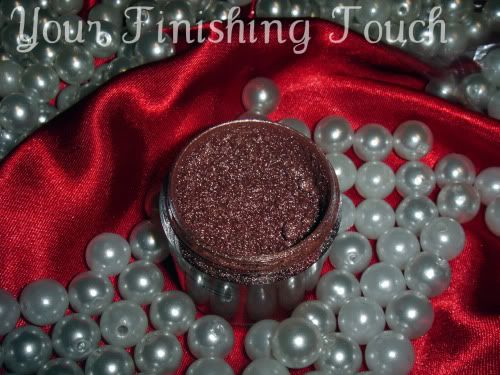 This one's a little emptier because I took some to put in a sample jar, which you should do with pigments. If you spill one of these babies, it's all over and you'll probably cry, I know I would. They're a PITA to clean up and they last for so long. I still gotta do that with my other ones.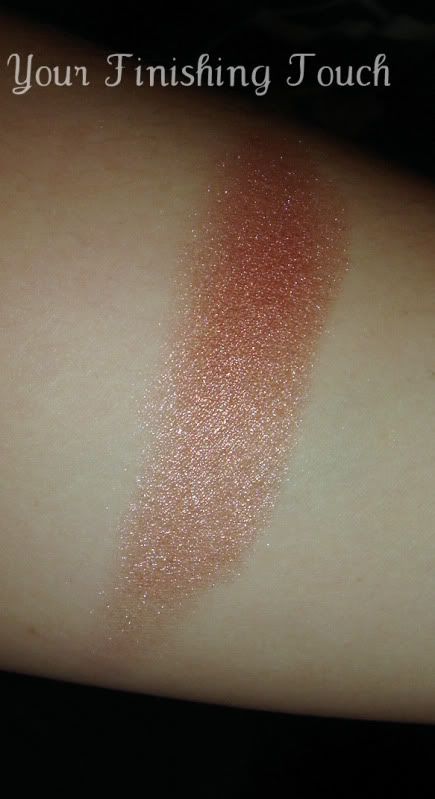 -----------------------------------------------------
Last up is Vanilla pigment. Oh my god. I love this stuff SOOO much. I use it as eyeshadow and face highlighter and sometimes on my lips. It's like magic in a jar, for realz. I love it and I could go on forever about it.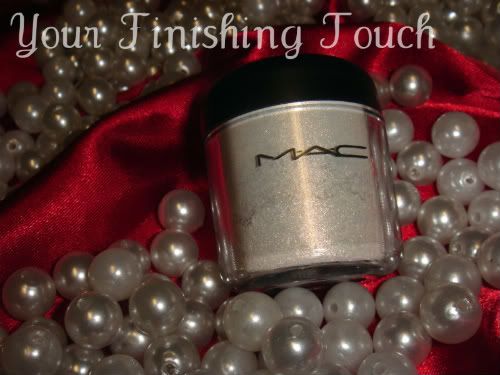 The color is really really neat. It's white but when it's applied it's got like, little rainbow sparklies in it. I really really love it as a face highlighter.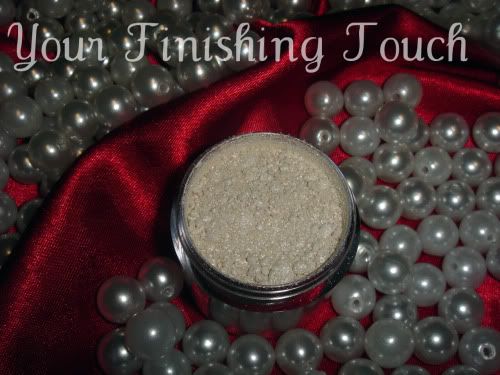 I usually put on my blush then just stick my brush on that little plastic thing that comes on top of the jar, swirl the brush around in the lid, then dust my cheeks and hairline with it. I love this stuff SO much if I haven't told you yet.
The first time I wore it on my cheeks my co worker said I looked like I was glowing, so yeah. Get this now. Vanilla Pigment. Do it.
-----------------------------------------------------
Have a GREAT weekend everyone!! It's kinda crappy weather here in CT, but I'll make the best of it I'm sure :). I have exactly 6 days of class before finallssss. I hate how my school gets out SO much later than everyone else. Growl. Oh welllll. Summer soon. And I just found out I got a job at this local bank and I'm SO happy about it. Life is really really amazing right now. Remember when things are bad, it could always be so much worse. Make the best of every single day because you'll never know who can be taken away from you before you know it. Rest in peace Lucille Spector.