Hey everyone!!

A little while ago I saw that Jen from
ABS
saw a new drugstore mascara...Revlon DoubleTwist and said it reminded her of Chanel's Exceptionnel de Chanel applicator. Hmm. So the other day at WalMart I figured I'd just pick it up, being the mascara fiend that I am.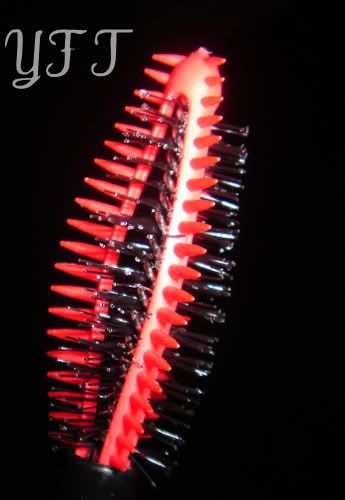 The brush is a bit...scary. The red combs are HUGE and very plastic-y. I'm gonna do a video later at BF's house because you can literally HEAR the huge plastic brushes grinding against the tube when you take the wand out. That was a bit of a turn off for me.
Overall though, I'm decently happy with this mascara. It gave me ALOT of volume, but almost no length at all.
Look at those fatass lashes!! Hahaha. Another issue for me was clumping. Usually I can get around ANY mascara as far as clumping goes, but this stuff is just..bleh. The product doesn't get distributed well over the wand so you'll get some bristles that are completely naked, then some with HUGE globs of product. I applied it on one of my eyes and just got a huge chunk of mascara right at the base of my lashes, it wasn't comfortable!
Overall, I'd give this mascara 3/5. It does the job...and that's it. The bristles are way too overwhelming (for me, at least.) and it just could have been a lot better. Better luck next time Revlon!
EDIT: Here's the video!