Ooooh

two posts in one day!! You lucky readers.

Today I'll be doing a really really simple tutorial on a sexy red lip. This is great if you're doing a cute 40's look or even a Halloween idea (I know I'm a

smidge

early ;)) if you're going for the Marilyn look.
____________________________________________
Chapstick

(OR MAC Prep + Prime. My lips dry out so easily and Prep + Prime dries them out a decent amount.) Just a base.
MAC Red Enriched

Lipliner

. Something the same color as the lipstick your using.
MAC Brave Red Lipstick. A really true red color.
MAC Monogram Posh Life

Lipgloss

. It's a bright pink/ reddish color to finish off the look.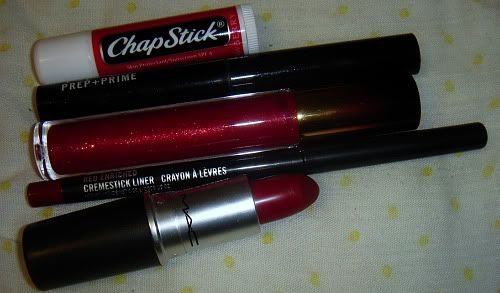 ____________________________________________
-So! Step one is to prep your lips. Just give them a nice smooth base that isn't too heavy. I just apply a thin layer of

chapstick

.
-Next is to line your lips. I start at the outside and color in the rest of my lip from there. Make sure everything is colored in really well, and that it's even. Clean up any mistakes that you make on the way. This will almost give your lips the "stained" look. It keeps the color more true and prevents it from getting all over your face like you got dunked in
Kool
Aid!!
-After that, time for lipstick. A lot of makeup artists will advise to use a lip brush. I personally don't care much for them. I always use the very tip of my lipstick and apply ALL OVER your lip. Lip brushes are recommended because a lot of people tend to mainly put lipstick in the center, ignoring the sides of your lips. Clean up your mistakes,
smoosh
, and blot once with a tissue. You can see the color getting more intense in the pics..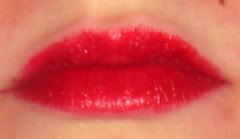 -The last step is to add some
lipgloss
!! Apply it all over the bottom lip area and
smoosh
together, cleaning up any mistakes. I keep saying that because mistakes are pretty
noticeable
with this color,
lol
. After applying gloss they'll look so smoking hot!!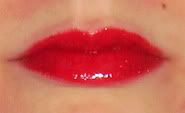 YOU ARE DONE!! See? Red lips totally aren't hard!! I usually pair it with some bold black liner, you don't want to go overboard with shadows when you have such a bold color on the lips. Any questions? Let me know!! Have a great night everyone!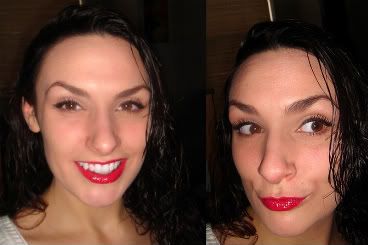 If anyone has any suggestions/ideas for ANYTHING, please email me at tmc089@hotmail.com
I'm always open to them while I'm still figuring out this whole blog/HTML thing!!